What is a Channel Manager and why you would need it in 2023
Share this link on your Social Media:
If you manage a hotel, a holiday home, a hostel or any type of tourist accommodation, you may already know that it is fundamental to open your property to sell on the main OTAs, to enhance your visibility online.
At the end of this article, you will understand what a Channel Manager is and its advantages for any business belonging to the hospitality sector. You will also figure out how this powerful software can improve the management of your daily activities, online reservations and in general, the management of your business.
The acronym OTA stands for
Online Travel Agency
. If you have never heard about this definition, maybe by naming some of the main OTAs, you will get what we mean.
Does this ring any bells to you? Yes, of course.
An OTA is a platform on which we can open an apartment to sell with its rates and availability, characteristics and photos, so that it can be booked online. However, OTAs also work as a guarantee for guests, as they ensure a series of benefits such as discounts, high security levels and the possibilities of making your evaluations in advance, thanks to other customers' reviews.
In our blog we will use the words OTAs and Portals as synonyms, just so you.
In our blog we will use the words OTAs and Portals as synonyms, just so you.
Ok, we have just spoken about OTAs and the fundamental role they play when it comes to online visibility. Now let's get straight to the core of this article: what is a channel manager and what does a Channel Manager do?
Channel Manager definition
A
Channel Manager
is a software, which helps you automate and run precisely all the activities belonging to the hospitality sector, such as the rates and availability update in real time on the main existing OTAs and the online bookings management for what concerns their confirmation, cancellation and modification.
The advantages of a channel management system: a real situation
I am the owner of a flat in the center of Rome, which is currently open to sell on three portals: Booking.com, Airbnb, VRBO. Everyday I need to access each portal to check the situation and update what's needed. What does this mean?
If I want to update rates, I will have to do it on each portal and of course, in case I had set a specific price according to the portal, I'll have to bear this in mind when editing rates.
In case I make any modifications to the flat and so I need to update any pictures, this operation must be done on each OTA.
What if I get a reservation from Booking.com? I'll have to access Airbnb and VRBO to close availability manually, while taking the risk of getting an overbooking.
This happens during the whole day, every day – it is crazy!
Now you know already that a Channel Manager could make all these processes automatic!
To sum it up, here are the advantages of having a Channel Manager:
You can automate your daily management tasks
Rates and availability will be updated in real time
Spare time in the management of your business
You will not have to access to each OTA on a daily basis
It prevents you from getting overbookings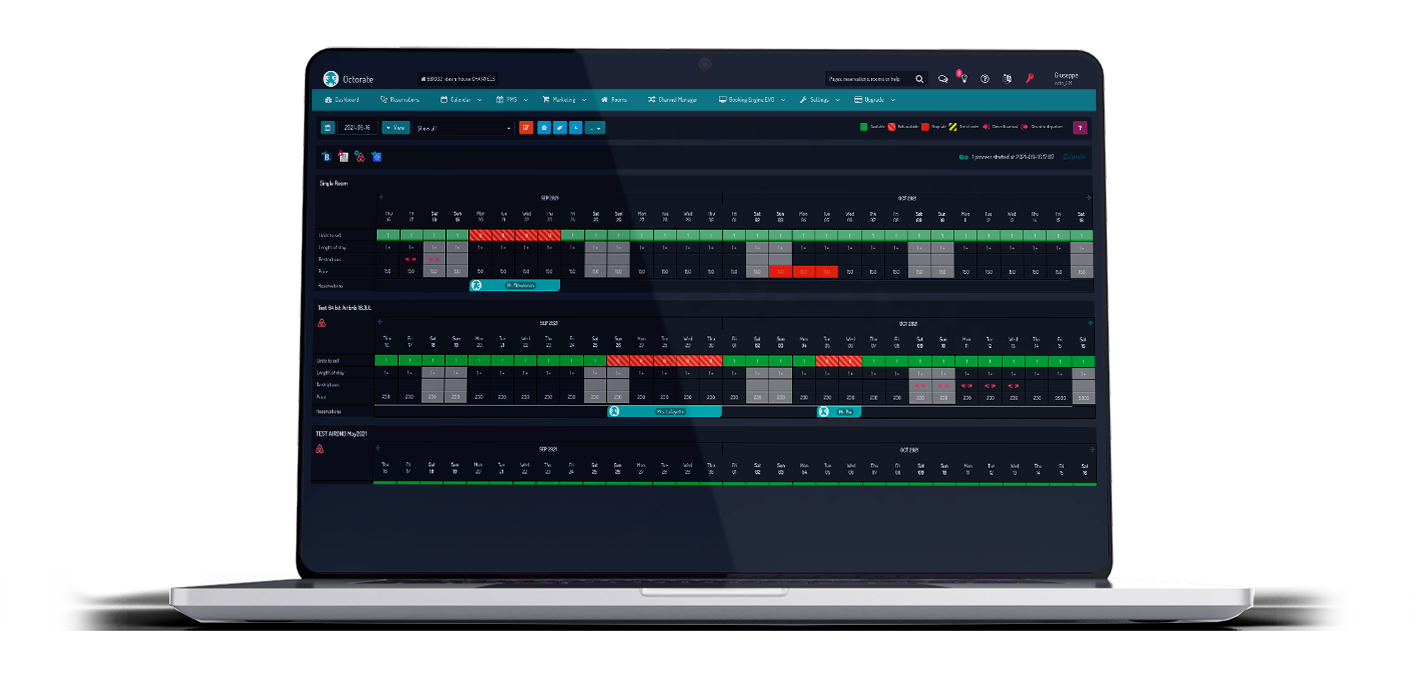 The overbooking is the situation that comes up when the number of bookings made for a specific date exceeds the actual availability for that date.
This could happen, as mentioned in the previous paragraph, when you have to close availability manually on several portals. Let's get back to the case mentioned above: I currently sell my property on three portals and I have just received a reservation coming from Booking.com, however I notice it 15 minutes after it's been made.
During this time, the availability in the other two portals is kept open and that is why a customer has the chance to book the same date in Airbnb before I can close it manually.
I have two reservations, from two different portals, for the same apartment: that is an overbooking.
The Channel Manager was conceived to find a solution to this kind of problems, since the platform directly gets reservations on its calendar, closes availability and sends these modifications to all the connected portals.
Octorate Channel Manager is a software, an all-in-one platform to automate and perfect the daily tasks linked to your property. There is no software to download and install and you can use it on the device that you prefer.
In the Channel Manager calendar, you can update prices and availability and send them to all the OTAs connected at the same time. Moreover, you can also set up a Price Ratio concerning each OTA that will automatically edit the price, before sending it to each specific portal.
If you get a reservation from one portal, this will automatically get to the system and close availability for the date in question on the Octorate calendar that will send this closing to the connected OTAs in real time.
Furthermore, the Channel Manager also provides you with specific tools created to avoid overbookings, such as the Autopilot, which makes a constant check between reservations and units available, so that the calendar can never show higher availability than reality.
Octorate Channel Manager also gives you the chance to manage photos, descriptions, booking options, in general the content of each listing on the main portals, all this from one single interface.
💻 What is a Channel Manager?
A Channel Manager for Hotel, B&B is a software that runs the main tasks linked to rates, availability, reservations and content management, which belong to the hospitality sector in an automatic and precise way.
🛫 How many OTAs am I entitled to connect to the Channel?
🤚 How can Octorate Channel Manager prevent overbookings?
Octorate will always send the right availability to the connected OTA. Moreover, the Autopilot will always run a check on your availability and also close dates manually, where needed.
💸 With the Channel Manager, will price and availability be updated automatically?
Sure. You only have to make your modifications on the Octorate calendar and the channel will send them to the connected portals.
Book your Free Demo
Book a Demo to figure out how Octorate can simplify the management of your Hotel, B&B or Holiday Home.
Share this link on your Social Media:
Maddalena Mazzaferri
Book your Free Demo
Book a Demo to figure out how Octorate can simplify the management of your Hotel, B&B or Holiday Home.
Share this article on Social Networks:In the hotel industry, knowing the types of hotel rooms and their...
read more