Payment Manager – POS System 
Receive credit card payments in line with PCI-DSS Security Standards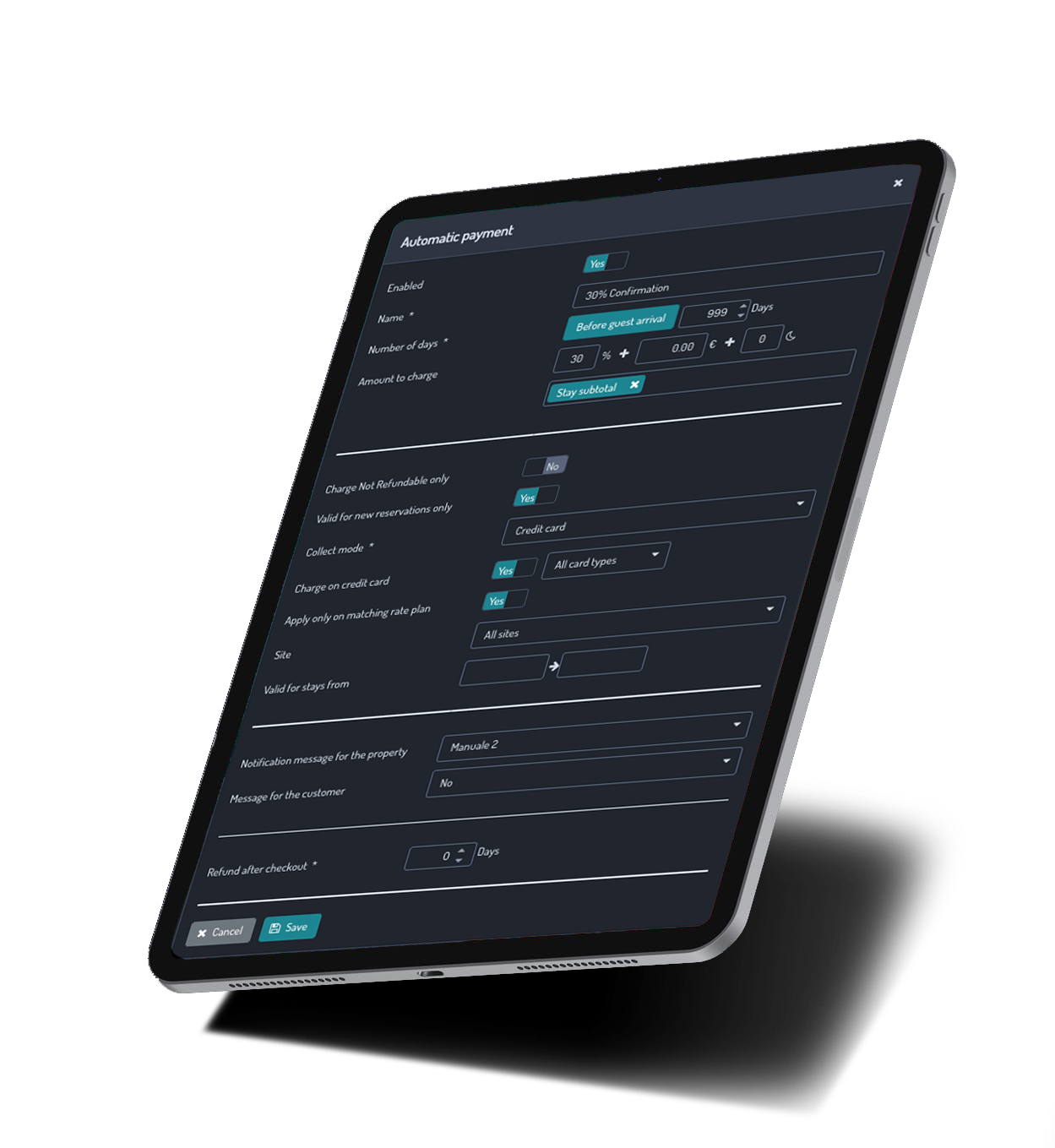 Try Octorate for free for 14 days

Integrated payment system for hotels

Enable secure digital or credit card payments with Octorate Hotel Division's integrated payment system. Simplify the handling of payment transactions. Real-time bank verification allows you to avoid fraud and no-shows while you reduce time management and see your profits grow. Thanks to integrating with our Booking Engine module, you record a higher conversion rate while reducing commission fees!
In addition, Octorate Hotel Division's Payment Manager is fully compatible with leading national and international payment gateways, such as Nexi, Stripe, Paypal and SysPay.

Enable secure payments for your properties
Octorate Vacation Rental's Payment Manager combines the features of a virtual POS with the advantages of a digital payment platform.
Automate payment transactions and send invoices to your guests. Collect payments and deposits securely, thanks to the PCI-DSS level 1 standard. Avoid no-shows and fraud through real-time bank card verification.
All Payment Manager functionality is seamlessly integrated within Octorate Vacation Rental's All-in-One platform with the Booking Engine and the Vacation Rental PMS. Octorate's integrated payment system allows you to receive payments for direct bookings on your website, saving up to 40% on commission fees.
Credit Card verification

Pre-authorization

Virtual POS

Real time currency converter
Digital receipts

Search and display online operations

Bank reconciliation
SECURITY
Avoid personal data violation
Protect your Brand reputation
Certify transactions with PCI-DSS Level 1 security standards
PROFIT
Online payments in one click
Save time and expenses
Create customer loyalty
Customise cancellation policies
Show your guests all the details about the rates they will book, including cancellation policies. You can customise the cancellation policies according to the amount requested and the time limit beyond which to activate them. In case of cancellation, the Payment Gateway will automatically charge the established amount on the credit card provided by the customer.
Choose the commission model that is most suitable for you
Thanks to the integration between Octorate and the best payment gateways on the national and international market, you can choose the provider you prefer according to the type of commission that best suits your needs! Manage your payments securely using one of the Payments Gateway Partners.
Keep payments under control with the Payment Manager
Decide which payment method to activate on your site: cash, bank transfer, PayPal or credit card. You can decide whether to manage your guests' credit cards through a connection to a payment gateway partner, which will allow you to use a virtual POS or set up automatic collections, or whether to charge them manually from your physical POS, displaying the credit card information from Octorate, securely.
If you connect one of the payment gateways integrated with Octorate, you can set up automatic payment rules with specific time limits and set amounts. This way, you will process payments securely and automatically, avoiding all those tedious and time-consuming procedures concerning credit card visualisation and manual payments.