PMS Property Management System 
Manage all property operations in one system
Try Octorate for free for 14 days

Increase the efficiency of your hotel with the PMS from Hotel Division
Octorate
Hotel Division
's PMS system is the hotel management system that helps you enhance your hotel all-round.
Optimise check-in timing and processes.
Speed up the check-out by automating electronic invoicing, self-billing and sending receipts. Keep total control of bookings through native integration with our Channel Manager and Booking Engine.
Interactively manage maintenance and cleaning tasks through integration with Google Calendar, send tasks to your staff and check the status of rooms through direct and real-time notifications. Want to discover the full potential of PMS? Read the article about the best Property Management System for hotels.

Increase the performance of your vacation rentals with the PMS for Property Managers
Octorate Vacation Rental's PMS, designed for hosts and property managers, supports you in all the day-to-day management activities of your non-hotel accommodation. If you are a property manager, you and your staff can access the PMS anytime and from any device.
Analyse the performance of your properties with the Advanced Statistics function, which helps you make targeted decisions for the growth of your business. Monitor and respond to reviews on sales channels.
Through Octorate Vacation Rental's PMS, invoices, receipts and accounting are managed automatically. Optimise all time-consuming check-in operations.
Keep up with your vacation rental's housekeeping and maintenance status through the interactive calendar, and manage your staff and the task status in real-time.
Interactive Calendar with room and reservation options

Management of Quotes/Options/Confirmations


Management of Rate Plan an Package

e-Mail Management before, during and after the Stay




Web conciergerie with messager

Deposit & Prepayment Management

Dedicated Front Office Dashboard

Cleaning Management

Group management with individual or glopal payment

Agency and Coporate management

Invoicing proces based on Local fiscal rules

Extra Management
Back Office (Production, invoicing, cashing)


Management of hotel Group

advanced Statististics & Business Intelligence

GDPR and PCI Compliant


Conection with Octorate channel Manager

Connection with external channel manager (D-edge, Travel-Click)

Many other connections with e-reputation, keyless system…

Connection SPA & Restaurant

User management

Auto Backup

Regular Update

Support include
invoicing
Manage invoicing, receipts, business intelligence and accountability from a single platform
100% Web-based
Accessible from any type of device connected to the web, anywhere and without installation
EASY-TO-USE
A full suite of features to manage with ease all the complexity of the business
Housekeeping
Coordinate your staff efficiently: the Property Management Software is integrated with Google Calendar
Self Check-ins
Automatic communication of guests IDs to local authorities, portals and smart systems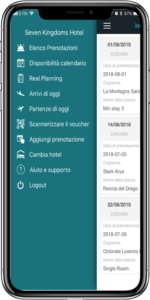 Octorate Property Management System is consistent with the Octorate mobile app. You can access the PMS by using your smartphone or your Iphone. Wherever you are and whenever you wish.
Keep the planning of your real rooms always under control together with all reservations you get from your guests. Available both on iOS and Android, the app is constantly updated with all the advanced features of our platform.
Thanks to the integration with Google Calendar, you can add collaborators in Property Management Software and connect their accounts.
Manage housekeeping and all the little maintenance will be very quick: you can schedule linen changing together with the cleaning of the rooms by creating events on their calendar. You will receive the notification once it's done. On the PMS calendar, the room cleaning status will be updated in real time!