Patti chiari e prezzi trasparenti
Scegli la soluzione per le tue esigenze e paga solo quello che utilizzi!
Nessun vincolo contrattuale, anticipo o penale.
Sei tu a decidere fino a quando utilizzare la piattaforma.
 Il Software Gestionale perfetto per la tua struttura
Scegli la soluzione più adatta alle tue esigenze
Gestione di oltre 130 canali online
OTA, GDS/IDS, Wholesalers, Prenotazioni dirette
Sincronizza
Disponibilità, Tariffe, Contenuti
Più prenotazioni dirette senza commissioni
Calcolo conversione Campagne Pubblicitarie
Invio automatico Schedine Alloggiati e modulo ISTAT
pronto per il Self check-in integrato con serrature smart
Crea il tuo sito web
in pochi minuti
Integrato con tutte le soluzioni Octorate
SEO-friendly e ottimizato per smartphone, tablet e PC
Revenue Management System
Prezzi suggeriti per le tue camere
Intelligenza artificiale e machine learning
UP SELLING E CROSS SELLING DI SERVIZI
MESSAGGISTICA WHATSAPP E EMAIL per prenotazioni dirette e DALLE OTA
IntegraTO con IL BE, IL PMS & IL Channel Manager DI OCTORATE
vendita di supplementi
e servizi extra
Consumazioni
in fattura
al check-out
Configura il tuo abbonamento
Tutti gli strumenti per aumentare prenotazioni, profitti e controllo
Compilando il modulo avrai accesso per 14 giorni, gratuitamente, alla versione PRO della suite di Octorate (Channel Manager, Booking Engine Evo, OctoSite, Web Concierge).
Il nostro team ti contatterà per illustrarti le funzionalità della piattaforma e potrai da subito iniziare a utilizzarla, senza alcun impegno, per un periodo di prova di 14 giorni.
Al termine del periodo, deciderai se continuare a utilizzare Octorate attivando il piano più adatto alle tue esigenze. Non avrai vincoli contrattuali, pagherai sempre mensilmente e senza nessun impegno.
Ricevi incassi programmati e pagamenti

Automatizza i processi e l'invio delle schedine alloggiati e gli arrivi, con il Self Check-in

Migliora il rating delle tue strutture

Aumenta i ricavi con il Revenue Management integrato

Aumenta le prenotazioni

Pianifica le strategie sui prezzi

Incrementa la visibilità online

Gestisci Booking.com, Airbnb, Expedia, HomeAway, Agoda, Google Hotel Ads, TripAdvisor, +150 altre OTA, metasearch e portali di distribuzione online. Tutto su un unico Calendario
Booking Engine | Octorate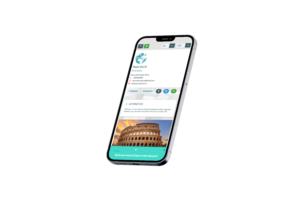 Start to boost your direct bookings with the Hotel Booking Engine Software by Octorate! Book your Free Trial now!
Marchio del Prodotto: Octorate
Valuta del prodotto: EUR
Prezzo Prodotto: 25
Prezzo valido fino a: 2025-12-31
Prodotto in magazzino: PreOrder